Портолан, Атлантический океан, 1633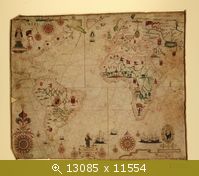 Открыть »
Размеры: 13085 x 11554 px
Объём: 11.14 Мб
Добавлено: 14:47:13, 22/02/2010
Датировка: 1633 год
1. Ссылка на картинку:
2. Ссылка на страницу с картинкой:
3. Код для phpBB-форумов, картинка:
4. Код для phpBB-форумов, превью с увеличением по клику:
5. Код для форума "Новая хронология", картинка:
6. Код для форума "Новая хронология", превью с увеличением по клику:
7. HTML-код, картинка:
8. HTML-код, превью с увеличением по клику:
[A portolan chart of the Atlantic Ocean and adjacent Continents].

Roiz, Pascoal.
CREATED/PUBLISHED
1633.
NOTES
Also shows the southeast Pacific Ocean, the southwest Indian Ocean, as well as the continents of South America, Africa, Europe, and portions of North America and Asia.
Relief shown pictorially.
Title supplied by cataloger.
Vellum chart collection, no. 16.
Reference: LC Nautical charts on vellum, 16.
Reference: LC Luso-Hispanic World, Vellum Chart 16
Pen-and-ink, watercolors, and colored pencil, matted and mounted between panels of transparent Lucite plexiglass; the panels are riveted on a rigid frame (102 cm. x 118 cm.).
Includes pictures of a fort, circle of compass roses, flags, insignia, coast-of-arms, and religious figures.
Imperfect: Mended horizontal tears across left edge section, some losses along edges, discoloration throughout, with spotting along west side. Blue paint in lower right corner.
Scale not given.
| | | |
| --- | --- | --- |
| | | |
| | | |
| | | |